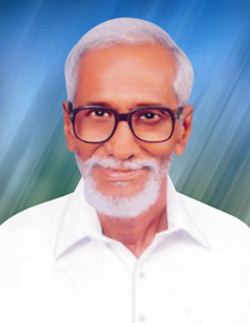 The Charitable Trust was incorporated in the year 2002 in the remembrance of late Mr.S.D.Somasundharam B.E., formerly Revenue minister, Government of Tamil Nadu and Member of Parliament, who wishfully worked all his life for the benefit of the needy, and during his tenure as minister of Tamil nadu has brought in many revolutionary reforms in the government machinery for the betterment of the community.
After his demise the trust was corporate in the name "SDS Charitable Trust" headed by Mrs.Sakunthala Somasundaram, registered at Chennai. Since the inception, the trust has been in action to bring about a healthy society. Thus far the trust has contributed to The Prime Minister's and Chief Minister's relief funds, during natural calamities when need arose, Contributed to students for their education, and conducted feeless coaching classes to guide the students to fair well in scholarship exams, Summer and winter vacation feeless computer and English Skill development courses and provide monetary help to the top performers.
An award in the name "Ayya SDS award" is being given to students of college who excel in studies and Sports, and as honor to the teachers who mould and guide the future of INDIA "Best Teacher Award" is given to College teachers. Now we wish to spread our wings further in the future and work for the community well being as visioned by our mentor "SDS".
We desire your relationship with us - " JOIN US "